School and Library Visits
I love visiting schools and other venues to talk about books and writing! Because I write for a wide range of readers, I can speak with children and young adults of all ages about the writing process. I'm happy to provide specific book suggestions for each grade.
I also love to work with adult writers at all levels!

My school and library presentations usually include the following, but I can also customize if you have specific requests:
readings
discussion of the writing and revision process
visuals showing the different stages of book production (research, first draft, revisions, artist sketches, etc.)
time for questions and answers
In-person visits
Full-day visits include up to three presentations, signing of all ordered books, and an informal lunch with selected students or teachers, if desired. I love getting to visit more than one school on a trip, if you would like to partner with a nearby school (or multiple schools!). Please contact me for current in-person visit rates.
I'm also available to do partial-day visits for reduced rates within New York City; please contact me if that's something your school or library would like to discuss.
Virtual visits
For virtual visits, my current rates are $500 per 45- to 60-minute presentation. Please contact me to discuss the type of program you're interested in. Possibilities include everything from small-group book talks after a class has read one or more of my books to broader presentations about books and writing for larger groups. I can do a single virtual presentation or up to three in one day.
Virtual visits can also include book signings! Depending on your preferences, we can arrange book orders through my publisher, one of my local bookstores, or your favorite book supplier.


Joint visits with Matt Phelan!
Author/illustrator Matt Phelan and I are available to visit schools together to talk about creating our picture book Marilyn's Monster as well as other aspects of writing and illustrating. It's a great opportunity to share with students the different roles authors and illustrators can play in the process and how we each contribute to the finished book. Please contact Matt or me directly for more information about booking us for a joint visit.
TESTIMONIALS


"Michelle Knudsen's virtual author visit was a great success! She tailored her presentations to each grade level and shared so many interesting facts about research and writing. The students were fully engaged and enthusiastic. Teachers have been stopping me in the hallways, telling me that this was one of the best presentations we've ever had!
— Deborah Afir, Librarian
Kent Place School
Summit, NJ
"I highly recommend Michelle Knudsen as one of the best authors to visit your school. Our children were already enchanted with her books, and her visit served to cement her already goddess-like status in their eyes. During her presentations, the students were so engaged you could have heard a pin drop — no easy feat, I can assure you. The explanation of her writing process was clear, age-appropriate, and easily understood, as was borne out by the cogent questions the children asked during the question/answer period. The children immediately connected with Michelle's comfortable and warm personality and I only hope we get to have her back again some day. We cannot wait for her new books to come out!"
— Erica Moon, Media Specialist
Rice Elementary School
Marlton, NJ

"Michelle Knudsen was a joy to have at our school! The students loved her approachable and friendly personality, the props and information in the presentation, and her wonderful books. The presentation was well-crafted and included some great information about the writing process, some interesting science facts, and a deftly handled question and answer session. The teachers were very impressed, and some have told me that they've referred to Michelle's writing process discussion while teaching writing in their classrooms. Michelle was easy to work with and kept smiling for the entire visit — I hope we can have her back!"
— Emily Richards, Library Media Specialist
Davis Elementary School
Malone, NY

"Michelle Knudsen gave an informative and interesting presentation for our students at Knight Elementary School. As a writer of so many children's books, she appealed to all of our students, kindergarten through grade 5. The students enjoyed having the opportunity to ask questions at the end of her presentation and during lunch when she met with a small group for 50 minutes. The first graders loved her quick response to their email questions too. What a wonderful opportunity to meet with an author who demystifies the writing process and personalizes her wonderful books!"
— Mary Sindoni, Librarian
A. Russell Knight Elementary School
Cherry Hill, NJ

"Michelle Knudsen's author visit to our elementary school was fantastic! Michelle tailored her presentation to each of our primary, intermediate, and upper grades and was well-received by each audience. She provided valuable details about the writing process and shared visuals of her writing at various stages in the process of completing her books. Ms. Knudsen allowed ample time for student questions and answered each question age-appropriately. The students were engaged, energized, and excited about reading and writing!"
— Lisa Hanna, Teacher-Librarian
Butler Elementary School
Central Bucks School District, Doylestown, PA

"Our students were very excited in the days leading up to Michelle Knudsen's visit to our school, and were not disappointed by it in the slightest. Her presentations were visual, interactive, and interesting. They exposed us to her works, gave us insight as to what the life and work of an author involves, and inspired us to continue reading and writing ourselves. She also ate lunch with our middle school students, who loved having the opportunity to chat with her personally after having read her middle grade novels. She was friendly, open, and willing to answer all questions — even encouraging students to email her with more afterwards. Our kids were delighted to receive the signed copies of her books they'd purchased, and to get started reading right away!"
— Librarians of the Solomon Schechter Day School of Bergen County
New Milford, NJ

"Ms. Knudsen approached her dialog in her warm, personable, and gentle manner that caught the attention of Willits students and kept them engaged throughout her presentation. Our students learned many valuable lessons from her constructive discussions and acquired considerable knowledge about the writing process and the process of bookmaking. Many of our aspiring authors can now use these useful techniques to launch their future careers!"
— Margaret J. Liss, Library / Media Specialist
A.P. Willits School
Syosset Central School District
SCHEDULING AN AUTHOR VISIT

If you are interested in having me visit your school or library, please contact me directly for further information on programs, fees, availability, etc.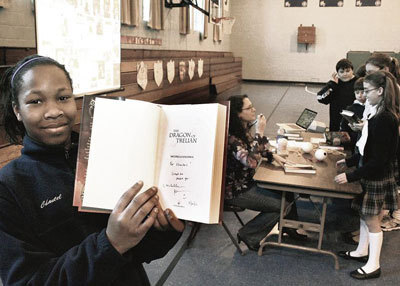 ORDERING BOOKS

Please be sure to allow enough time for the books to arrive! Ordering at least 6–8 weeks ahead of time is a good idea. I will sign all ordered books on the day of the visit (following each presentation, in between presentations, or at the end of the day). You can order books through the bookseller or wholesaler of your choice, or directly from the publisher: