Biography
Everything that you ever wanted to know about me, and probably more. If there's anything you want to know that's actually not on this page somewhere, please email me and ask!

If you need a photo for an event or article, you are welcome to use the "more recently" one at left (or at the bottom of this page, if you're viewing this on a mobile device.) If you need a larger/higher-quality version, please email me and I'll be happy to send it to you.
The Short Version:
Michelle Knudsen is the New York Times best-selling author of fifty books for young readers of all ages, including the award-winning picture book Library Lion, which was selected by Time magazine as one of the 100 Best Children's Books of All Time. Her other books include the picture book Marilyn's Monster (one of NPR's Best Books of 2015) and the novels The Dragon of Trelian (VOYA Top Shelf Fiction for Middle School Readers) and Evil Librarian (YALSA Best Fiction for Young Adults and winner of the Sid Fleischman Award for Humor). Michelle also works as a freelance editor and writing teacher, and is a member of the Writing for Young People MFA faculty at Lesley University. She lives in Brooklyn, NY.
The Somewhat Longer Version:
Like many writers, I've been writing for about as long as I can remember. When I was very young, I mainly liked writing poems. I started writing short stories in high school and college, and sold a few nonfiction magazine articles, but never really thought about writing children's books until I was hired as an editorial assistant in the children's division of Random House. I wrote several books for Random as part of my job (children's book editors sometimes write books "in-house") and eventually began writing and submitting my own manuscripts. It's great how life surprises you sometimes. I fell into children's books pretty much by accident, but now it's hard to imagine wanting to do anything else! I love writing books for young readers.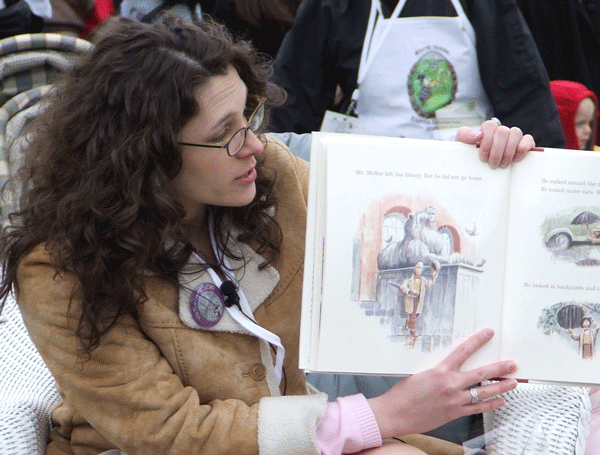 So far I've written more than 50 books, including board books, beginning readers, picture books, coloring and activity books, and middle-grade and young adult novels. I've also written some uncredited novelty and licensing titles. One of my best-known books is Library Lion, which was a New York Times bestseller, won many awards, and has been translated into many languages. It's also now being performed as a musical in Israel, the UK, and South Africa! My newest books are the YA novel Curse of the Evil Librarian (book 3 in my Evil Librarian trilogy) and the chapter-book biography She Persisted: Nellie Bly (part of Chelsea Clinton's She Persisted series about American women who changed the world).

When I'm not writing, I love watching movies, going for walks, hanging out with friends (mostly virtually right now), binge-watching shows with my husband and stepdaughters, and playing fantasy RPGs. And reading, of course! I also recently started taking boxing lessons, which has been a lot of fun. I love plays and musicals, and I sometimes perform in community theater. My most recent show was Iolanthe with Village Light Opera Group in NYC. (UPDATE: I haven't had enough time to commit to rehearsals in a while, so most of my singing these days happens at karaoke. I miss being in muscials, though!) I also go to see Broadway shows with my best friends from high school as often as I can.

In July 2010, I received my MFA in writing for children and young adults from The Vermont College of Fine Arts. I also do some work as a freelance editor and private writing coach; see my editing page for more information on that. And in June 2015, I started teaching with Lesley University's MFA program in Writing for Young People.
Agent and Publisher Info:
My agent is the fabulous Jodi Reamer at Writers House, LLC.

Most of my recent books are published by Candlewick Press, and my wonderful editor there is Sarah Ketchersid. She Persisted: Nellie Bly was published by Philomel Books/Penguin Young Readers. I have also published books with Random House, Golden Books (before they were purchased by Random House), Simon & Schuster, and The Kane Press (now Boyd Mills & Kane).