LIBRARY LION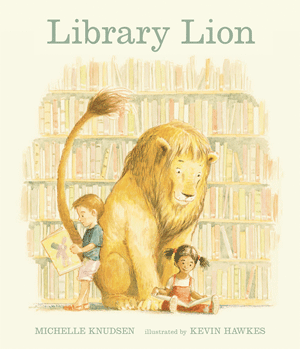 Illustrated by Kevin Hawkes
Candlewick Press, July 2006
ISBN: 978-0-7636-2262-6 (Hardcover)
ISBN: 978-0-7636-3784-2 (Paperback)

Miss Merriweather, the head librarian, is very particular about rules in the library. No running allowed. And you must be quiet. But when a lion comes to the library one day, no one is sure what to do. There aren't any rules about lions in the library. And, as it turns out, this lion seems very well suited to library visiting. His big feet are quiet on the library floor. He makes a comfy backrest for the children at story hour. And he never roars in the library, at least not anymore. But when something terrible happens, the lion quickly comes to the rescue in the only way he knows how.
Awards & Honors

• One of Time magazine's 100 Best Children's Books of All Time
• A New York Times Best Seller
• A Junior Library Guild selection
• School Library Journal's Best Books of 2006
• Amazon.com's #1 pick for their list of the Best Picture Books of 2006
• Nick Jr. Family Magazine's Best Books of 2006 ("Most Droll")
• Publishers Weekly Cuffie Award
• Oppenheim Toy Portfolio 2007 Platinum Award
• 2006 Wilde Picture Book Award
• Child Magazine's Best Children's Books of 2006
• Winter 2006–2007 Book Sense Children's Picks List
• 2007 Book Sense Book of the Year Children's Illustrated Honor Book
• Irma S. and James H. Black Honor Book for 2006
• 2007 Time of Wonder Award winner
• The New Atlantic Independent Booksellers Association 2007 Picture Book of the Year

Library Lion has appeared on the Book Sense Children's Bestsellers list, the New York Times Children's Books Best Sellers list, and the Publishers Weekly Children's Picture Books Bestsellers list!

Editions have been/will soon be published in the following countries/languages:

• United Kingdom
• Australia
• Japanese
• Korean
• Taiwan (Complex Chinese)
• Simplified Chinese (Mainland China, excluding Hong Kong and Macao)
• Italian
• U.S. Spanish-language edition
• French
• Spanish
• Catalan
• Dutch
• Finnish
• Hebrew
• Slovenian
• Hungarian
• Turkish
• Russian
• German
• Portuguese
• Czech
• Romanian
• Greek

Library Lion was chosen as the featured cover art by the Association of Booksellers for Children's 2006 program, "Books Make Everything Better." Here's a look: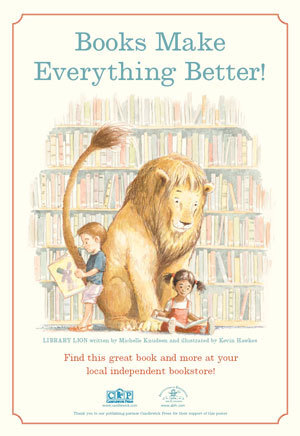 Each year, ABC supports the association's national literacy campaign with a poster promoting the importance of reading in child development. For the past twelve years, this campaign has been known as the "Twenty Minutes A Day" campaign and has taken on a new life with wider age appeal as the revamped, "Books Make Everything Better." The illustration will also grace the cover of the ABC Best Books for Children catalog. The poster will be printed and distributed prior to BEA -- each member store receives free posters for distribution to their customers and reading community. The ABC Best Books for Children catalog is printed and distributed in September and is expected to have a circulation over 400,000. Selected books by the illustrator are also featured on the inside front cover of the catalog. Hooray!

Library Lion was also featured on the cover of Candlewick's Fall 2006 catalog!
REVIEWS:

"This winsome pairing of text and illustration is a natural for storytime and a first purchase for every collection." —School Library Journal (Starred Review)

"Michelle Knudsen's sweet and funny picture book, Library Lion (masterfully illustrated by Kevin Hawkes), tops our list of the best picture books of 2006." —Amazon.com

"A delightful picture book about rule breaking and friendship that is sure to please readers and librarians everywhere. . . . Curl up at your favorite library with this winner of a tale!" —BookPage

"Sweetly celebrating all things bookish and guaranteed to tickle young readers' funny bones." —Child Magazine

"Call it neo-nostalgic: This book feels like a children's classic of the '40s or '50s." —Cookie

"A very gentle book with a good word to say about breaking the rules." —Detroit Free Press

"[A] delightful amalgam of story and illustration." —The Globe and Mail (Canada's National Newspaper)

"Knudsen and Hawkes pick a perfect setting to express the idea that breaking rules can sometimes be a good thing." —Kirkus Reviews

"Knudsen and Hawkes have produced a book that will become a classic...a perfect blend of humor, charm, storytelling, silliness, and comfort." —Long Beach Press-Telegram

"The book is a must for any library collection. It is especially apt for the story hour where much could be made of the lion's roar. Children will be enthralled at the idea of a lion in the library. Recommended." —Magpies: Talking about books for children

"For book lovers young or old, what cozier read-aloud topic is there than a love letter to the library?" —Newsday

"What a book! What a story! What a message!" —Susan Ohanian

"There are some books you like and some books you just love, L-O-V-E, the kind of book that makes a school librarian's heart beat faster and count the days until September . . . and this is one of them."
—The PlanetEsme Plan: The Best New Children's Books from Esme's Shelf

"[A] fun, fantastical tale. . . . Knudsen's gentle tale of a revered yet welcoming community destination will ring true for many readers. Hawkes's (Weslandia) evocative, soft-hued acrylic-and-pencil illustrations have a timeless feel, depicting a cozy book-filled haven that any story fan would love to visit, rules and all." —Publishers Weekly

"Has a timeless quality and moral appeal that will assure its place in the future lists of classic storybooks for children." —SherriAllen.com

"What a treat to see publishers like Candlewick going back to making books with great stories and elegant, restrained design!" —Something Different Every Day (Susan Dove Lempke's blog on the NSLS.info website)