EVIL LIBRARIAN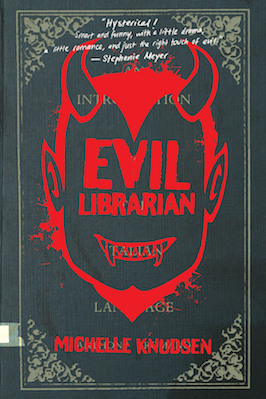 Candlewick Press, September 2014
ISBN: 978-0-7636-6038-3 (Hardcover)
ISBN: 978-0-7636-7640-7 (Paperback)
Also available as an ebook and an audiobook.

* 2015 Sid Fleischman Award for Humor
* YALSA 2015 Best Books for Young Adults
Evil Librarian is the first book in the Evil Librarian trilogy.

When Cynthia Rothschild's best friend, Annie, falls head over heels for the new high school librarian, Cyn can totally understand why—he's really young and ridiculously hot and apparently thinks Annie would make an excellent library monitor.

But almost immediately, Cyn starts to sense that something about Mr. Gabriel isn't quite right. Maybe it's the creepy look in the librarian's (literally) mesmerizing eyes, or the weird feeling Cyn gets whenever she's around him, or the blood and horns and giant bat-like wings that appear when he thinks no one is looking. Before long, Cyn realizes that Mr. Gabriel is, in fact . . . a demon.

Now, in addition to saving her beloved school musical (Sweeney Todd!) from technical disaster and avoiding making a complete fool out of herself with her own hopeless crush (who happens to be the only other person who knows the truth about Mr. Gabriel), Cyn has to save her best friend from the attractive-yet-very-very-bad clutches of the evil librarian, who has not only bewitched Annie but seems to be slowly sucking the life force out of the entire student body!
REVIEWS

"Hysterical! Smart and funny, with a little drama, a little romance, and just the right touch of evil."
—Stephenie Meyer, author of the best-selling Twilight Saga
"Terrifically entertaining from start to finish."
—Bulletin of the Center for Children's Books (starred review)

"[A] self-aware supernatural dramedy. . . . The writing is clever, the tone wry, and the stakes high, with surprises that keep the plot unpredictable. Cyn's internal monologue provides plenty of amusement, especially when her hormones threaten to overpower her common sense. It's an entertaining tale with room for future installments."
—Publishers Weekly

"Snappily narrated, tightly plotted and generally just right. Forget paranormal romance; this horror-humor-romance pastiche is where those in search of hot nonhumans should set their sights."
—Kirkus Reviews

"If Louise Rennison and Christopher Moore had a bibliographic love child it would be this cheekily narrated supernatural offering."
—School Library Journal

"A funny, surprisingly chilling look at what happens when a minor demon becomes a high-school librarian and begins stealing life forces and lining up a child bride - but decides not to disrupt the school musical . . . Cynthia and her friends are roiling with angst, romance, friendship, heartbreak, resentment and fear, and as funny as the book is, author Michelle Knudsen does a nice job capturing those darker moments."
—Virginian-Pilot

"Very funny and truly horrifying." —Smart Bitches, Trashy Books
Evil Librarian Book Trailer!

(If you can't see the embedded video below, you can watch it on YouTube here.)



CREDITS:
Director/Animator: Brent Felker
Illustrator: Barbara Ng
Composer: Joemca
Voice: Jessica Luck