Big Mean Mike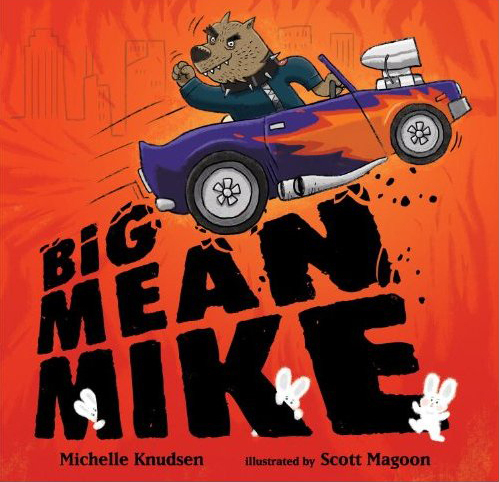 Big Mean Mike
Illustrated by Scott Magoon
Candlewick Press, August 14, 2012
ISBN-13: 978-0-7636-4990-6 (Hardcover)
ISBN-13: 978-0-7636-6813-6 (Paperback)

* A Junior Library Guild Selection
* An Eric Carle Museum Picture Book of Distinction 2012
* Irma S. and James H. Black Award winner
* Amazon's Best Picture Books of 2012
* 2013 Children's Choice Book Award finalist
* 2014 Magnolia Award winner
* 2014 Golden Archer Award winner


Big Mean Mike is the biggest, toughest dog in the whole neighborhood. He's even got a big, mean car that he drives around the big, mean streets. Everyone knows how big and tough he is — which is just the way Mike likes it.

Then one day a tiny, fuzzy bunny shows up in his car. Mike puts it on the sidewalk and drives away before anyone can see. But the bunny keeps coming back — with friends! — no matter how many times Mike tells them to scram. Big, mean dogs do not hang around with tiny, fuzzy bunnies! But gosh, those bunnies sure are cute . . . .
REVIEWS:

"Even the toughest readers will crumble under the appeal of these bunnies." —Kirkus Reviews

"Knudsen offers an uncompromisingly macho version of the defend-your-friends theme, and its cultural references (combat boots, gym membership) and the inherent humor in seeing the bunnies charm their way into Mike's heart will keep readers attentive — and laughing." —Publishers Weekly

"This is funny stuff: Both author and illustrator play with the paradox of the Chuck Norris-type falling for the balls of fluff. They play with the tension, too: Knudsen supplies Mike with plenty of random, angry 'ARRGH!'s when things aren't going his way, and the bunnies' over-the-top cuteness make their 'Grrrr's even funnier." —Julie Danielson on Kirkus's Children's Book Blog (You can read the full review, which also features Aaron Reynolds and Peter Brown's Creepy Carrots! here.