CURSE OF THE EVIL LIBRARIAN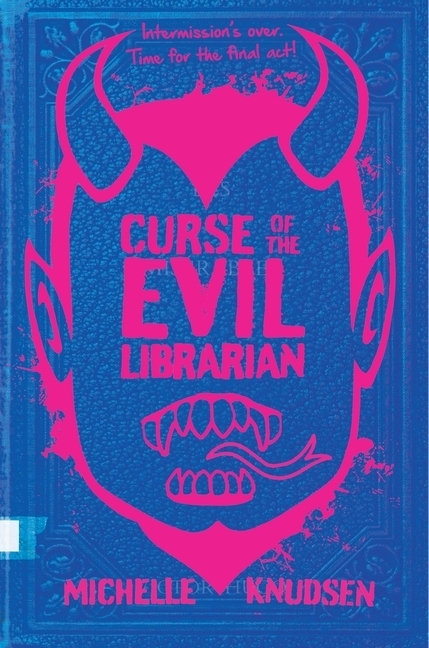 Candlewick Press, August 13, 2019
ISBN: 978-0-7636-9427-2 (Hardcover)
ISBN: 978-1-5362-1582-3 (Paperback - coming January 2021)
Also available as an ebook.
Curse of the Evil Librarian is the third book in the Evil Librarian trilogy.
SPOILER ALERT!
The summary below contains some spoilers for the first two books, so skip down to the reviews (they're spoiler-free) if you haven't read books 1 and 2 yet!
Cynthia Rothschild's world is finally just as it should be. The evil librarian Mr. Gabriel has been locked up safe in the demon world ever since their showdown over the summer at theater camp. All her friends are still alive and no one's been attacked or possessed by demons for months now. Plus, this year's fall musical is going to be Les Misérables, which means Cyn gets to create the most incredible barricade set design in all of high school theater history and her boyfriend, Ryan, is sure to land his dream role of Javert. They're clearly going to have an amazing senior year. So why can't Cyn relax and trust that things are really okay?
Maybe it's because meanwhile, down in the demon world, an epic mishandling of Mr. Gabriel's essence leads to his escape. The newly free evil librarian places a curse on Ryan, forcing Cyn to return to the demon world to make a deal for a Ryan's life. But what she has to do to save him will make Mr. Gabriel more powerful than he's ever been before.
Will Cyn and her friends ever be able to bring down the final curtain on Mr. Gabriel once and for all?
Reviews:
"As ever, there's a lot of Buffy-worthy silliness and snark grounded by a strong foundation of well-developed characters and relationships. . . . A satisfying conclusion to this horror-comedy saga." —The Horn Book
"Action-packed and suspenseful. . . . a fast, funny, and irreverent almost-end to the series." —Foreword Reviews
"Charmingly spot on." —Bulletin of the Center for Children's Books
"Fun closer to the best musical theater demon trilogy around." —Kirkus Reviews
Praise for Revenge of the Evil Librarian (Book 2):
"Knudsen brilliantly combines just the right amount of witty, dark humor with truly heart-pounding horror to keep the reader racing to turn the page. Fans of both humor and horror will find a great match with this book and will likely be pulling for a third installment."
—VOYA Magazine
"Returning readers will love hearing from Cyn again, who narrates her story with aplomb and keeps readers laughing despite the hellfire and danger around every corner. A pleasing and excellently evil mix of regular theater kids with highly irregular death."
—Booklist Online
"Take one part humor, add an equal part horror, and spice with teenage drama (musical and romantical) for a (slightly grim) laugh. . . . Campy, from the setting to the humor to the horror, and all the better for it."
—Kirkus Reviews
"The humor, horror, and drama of the previous book are all here, and the while the conclusion is mostly happy, signs point to yet another trip to Hell for Cyn, so readers can look forward to more demonic mayhem."
—Bulletin of the Center for Children's Books
"Cyn's realistic, slightly snarky, narration and non-stop action will carry readers through a roller-coaster storyline full of humor and horror. And then there is that agreement between Cyn and the demoness to pull readers into the next book."
—Literacy Daily
Praise for Evil Librarian (Book 1):
"Hysterical! Smart and funny, with a little drama, a little romance, and just the right touch of evil." —Stephenie Meyer, author of the bestselling Twilight Saga
"Terrifically entertaining from start to finish." —Bulletin of the Center for Children's Books (starred review)
"[A] self-aware supernatural dramedy. . . . The writing is clever, the tone wry, and the stakes high, with surprises that keep the plot unpredictable. Cyn's internal monologue provides plenty of amusement, especially when her hormones threaten to overpower her common sense. It's an entertaining tale with room for future installments." —Publishers Weekly
"Snappily narrated, tightly plotted and generally just right. Forget paranormal romance; this horror-humor-romance pastiche is where those in search of hot nonhumans should set their sights." —Kirkus Reviews
"If Louise Rennison and Christopher Moore had a bibliographic love child it would be this cheekily narrated supernatural offering." —School Library Journal
"A funny, surprisingly chilling look at what happens when a minor demon becomes a high-school librarian and begins stealing life forces and lining up a child bride—but decides not to disrupt the school musical. . . . Cynthia and her friends are roiling with angst, romance, friendship, heartbreak, resentment and fear, and as funny as the book is, author Michelle Knudsen does a nice job capturing those darker moments." —Virginian-Pilot
"Very funny and truly horrifying." —Smart Bitches, Trashy Books